Using grape seed oil for skin is a beauty hack that many may not aware of. The oil can be used on face especially if you have an oily acne prone skin, it can also be used to brighten or lighten your skin in addition to fading away wrinkles, stretchmarks and dark circles. Read on to find more benefits, how you can use it, reviews, results, side effects and how it compares with other natural oils like argan, olive and coconut
Why Consider Grape Seed for Skin?
For ages, grape seed oil has been extensively used for its medicinal properties. It is an important ingredient in several skin care products including creams, lotions and lip balm. It is processed from the tiny seeds of grapes (Vitis vinifera)
Some of the core properties that make this oil good for skin include;
Emollient properties-It soothes the skin
Astringent properties-Pulls the skin tissues together thus tightening effects
Anti-inflammatory properties
It is an anti-oxidant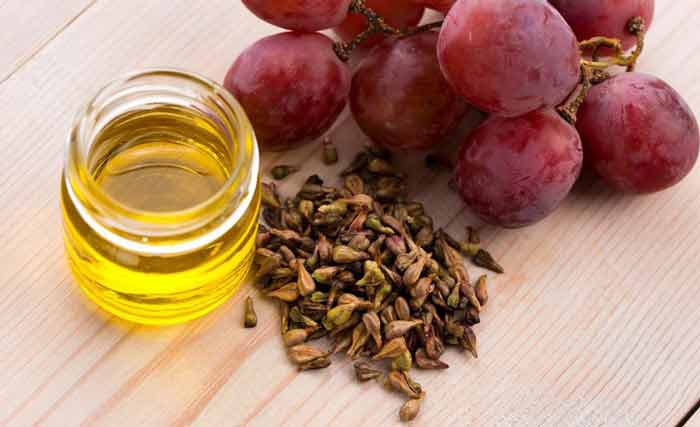 Linoleic Acid
Grape seed oil contains linoleic acid which is a polyunsaturated fat, omega-6 fatty acid that is often found in foods and medications that are used to fight cancer. It is a natural substance found in the body and without it, you will suffer from hair loss and dry flaky skin on face.
The linoleic acid works to treat dryness by forming a protective layer on the skin, and it is commonly found in acne treatments and anti-inflammatory products. Using grape seed oil the linoleic acid in it is also thought to help in metabolism at the cellular level which also helps in preventing aging skin.
Other acids in this oil include the following:
Alpha linolenic acid
Oleic acid
Palmitic acid
Palmitoleic acid
Stearic acid
Grape Seed Oil has important skin care vitamins
Vitamin C
Vitamin C contained in Grapeseed oil makes it effective when used as a skin care product. Vitamin C is a well-known antioxidant that helps in repairing cell damage, and it may also stimulate the body's production of collagen.
When you have sufficient collagen in your body, it will help you to achieve a healthy skin because it is a protein that is partly responsible for skin elasticity.
Vitamin E
The most important and well known biological function of Vitamin E is related to its antioxidant properties. It is the most effective antioxidant in the body internally.
It protects cellular structures against free radicals and the byproducts of oxidation. It also removes impurities from your body to prevent cell damage.
Vitamin E may decrease some of the harmful effects of sun radiation on the skin when used topically. Topical Vitamin E moisturizes your skin from within and reduces Ultra Violet induced damage, helps in protecting you against ozone damage and decreases erythema (redness of the skin) after sun exposure therefore making is an effective remedy for your skin.
Vitamin D
Vitamin D is another ingredient that may stimulate collagen production and also reduce your chances of acne.
Polyphenols
Grape seed oil contains polyphenols that provide anti-inflammatory properties to your skin and they help in healing blemishes that are on your skin making it look healthy.
Oligomeric Proanthocyanidin Complexes (OPCs)
Proanthocyanidin complexes, some the chemicals found grape seed oil extract, play a role as powerful antioxidants.
Bottom line: Grape seed oil contains health compounds for example acids and vitamins that are all effective in skin care problems and also promotes healthy skin.
Benefits of Grape Seed Oil for Skin and Face
Since this oil contains many natural compounds it is can naturally benefit the skin in many ways. Here are some ways that you can use Grapeseed oil to help in healing your skin.
It acts as a moisturizer for your skin. If you use oil on your skin you will normally find it too greasy. For grape seed oil, it is nice and light and will leave your skin feeling soft and smooth. It has a light, pleasant smell that is not easily noticed once you apply it to your skin.
Skin balancing. Experts say that an oily skin is caused by the over-production of oil because the skin cells think that it's dry. Using a non-comedogenic type of moisturizer such as grape seed oil provides nourishment that your skin needs, and helps to rebalance your oily skin. It is light to touch and it never leaves you feeling heavy to touch.
Tightens skin. Grape seed oil contains natural astringent properties that are it draws tissues together and restricts the flow of blood in your body which results in skin toning and skin tightening.
Perfect for a sensitive skin. If you have a sensitive skin, you can't use regular moisturizers or lotions because they are packed with ingredients that can cause itchy red inflammation. But for grape seed oil it is safe and cannot cause allergic reactions to your skin, as it considered having hypo-allergenic properties.
Restoration of collagen. As mentioned earlier, oil extract from grape is rich Oligomeric proanthocyanidins. These flavonoids have been shown to remove free radicals and leading collagen restoration at the cellular level.
Eventually, this makes your skin feel more firm and helps in reducing more signs of skin damage. It therefore contributes to keeping your face smooth to touch and giving it a youthful appearance.
Reducing wrinkles on aging skin. Grape seed oil is light with many beneficial properties to your skin. It also contains Vitamin D and antioxidants that helps in reducing fine wrinkles and line over time.
For aging skin, the linoleic acid in the oil works to help to tone and firm the appearance of the skin, giving it a youthful look. Proper hydration of the face also helps in improving the look and feel of your skin.
Healing Scars on skin and stretch marks. Grape seed oil can be used to heal up old or new scars and stretch marks on your skin. Make a point of trying it as soon as possible.
Healing and prevention of acne and pimples. Grapeseed oil contains polyphenols that provide anti-inflammatory properties to help the blemishes to heal up, while the astringent properties of the oil help in keeping check the colonies that cause bacteria.
Following are different ways you can use grape seed oil extract for skin care.
How to use Grape Seed Oil for Face Wrinkles, Wash and Cleanse
Grape seed extract for wrinkles
Grape seed extract or oil is pure natural oil that is suitable for use even if you have a sensitive skin. Its use is not limited to aging individuals with wrinkles on face. It can be used by people of tender ages. It is also perfectly safe for daily use.
This is how you can use grape seed oil for face wrinkles
Pour a few drops: Take a few drops of Grapeseed oil and rub your palms together. You do not need to use a cotton wool or any other type of additional instrument. You should make sure that your palms are oily enough. A small amount of the oil should not be enough to do so.
Massage: Massage your face with the oil on your palms. As discussed earlier Grapeseed oil is very light so it will be absorbed quickly. The amount of oil you use depends on your skin type. You may need to use some more drops if you have a dry skin and if you have an oily skin you may not even need to use the oil at all.
Grape seed oil for face wash/cleansing
You can use Grape seed oil in cleansing method for acne and sensitive skin using the following method
Get your Grape seed oil mixture, washcloth and a hand towel
Wet your face with warm water
Pour about half teaspoon of Grape seed oil into your palm and rub your hands together.
Rub your fingers gently over your face in small circles for 30 seconds to 2 minutes to allow the oil to penetrate. You should concentrate on areas with blocked pores.
Wet hand towel with just below hot water, squeeze out, and fold up to keep the heat in.
Quickly wet the washcloth with super-hot-but-doesn't-burn-your-face-off water. Squeeze it out and spread it over your face.
Cover the washcloth with the towel to seal in the steam and to keep the washcloth from cooling right way because this is the key.
Leave on until the towel and washcloth have cooled to about a room temperature and wipe your face the second and third time.
Finally you would have oil cleansed your skin and there should be a thin layer of oil still on your skin to balance and protect
If your skin feels tight after, it is recommended to rub a small amount of cleansing oil in.
Using grape seed oil as a moisturizer
When you use Grape seed oil as a facial moisturizer you can add in Grape seed oil to your favorite moisturizer which will help your skin to retain moisture for long periods of time.
How to use Grape Seed Oil for Skin Lightening
Pour a few drops: You first pour a few drops of Grape seed oil to your hands and rub your palms together. You do not need to use any other type of additional instrument or cotton wool. You should use only a small amount of the oil.
Massage: You can simply massage your full body skin with the Grape seed oil on your palms. As discussed earlier, grape seed oil is very light thus will be easily absorbed faster. You may need to use a few drops if you have a dry skin
How to use Grape Seed Oil for Acne Prone  Oily Skin
Healing and prevention of acne and pimples. Acne can be a problematic skin condition and with time it leads to scars on you skin. Grapeseed oil contains polyphenols that provide anti-inflammatory properties to help the blemishes to heal up, while the astringent properties of the oil help in keeping check the colonies that cause bacteria.
Cleansing oily skin with grape seed oil
Test the product first. You first apply a small amount of the grape seed oil on your cheek or neck and observe the area for 24 hours to see if your skin becomes irritated or if you have any allergic reactions. If you notice any skin reactions you should not use the oil.
Apply grapeseed oil to damp skin. Before you apply the grapeseed oil to your face splash your face with warm water and wipe it dry with a washcloth. Apply about ½ teaspoon of grapeseed oil into the palm of your hand. Gently rub and distribute the oil between both hands, especially on your finger tips.
Rub the oil onto your skin for two minutes. After coating your fingertips with the grapeseed oil gently rub the oil onto your skin in circular motions with your fingertips for about two minutes and apply to your cheeks, forehead, chin and nose. The circular motions will help in breaking up dirt, oil and residue.
Wipe away the oil with a damp washcloth. Washing your face may not remove all the oil completely; you should therefore wipe all the oil by using a well rinsed washcloth with warm water and squeeze out the excess water. Finally sweep the damp washcloth over your entire face so as to lift away the grapeseed oil.
Moisture your skin with fresh grapeseed oil. This will help in locking in moisture; use a drop or two of the grapeseed oil on a freshly cleansed skin.
Cleanse your skin with grapeseed oil frequently. You should cleanse your skin with grapeseed oil a few times each week. As you begin to establish your cleansing routine, you may wish to cleanse with oil each evening. You may notice more oil production during the first few days but this will balance as your skin adjusts to the new routine.
Grape Seed Oil for Stretch Marks
Oil extract from Vitis Vinifera, is also believed to fade to diminish stretch marks. This is because the oil is high in Vitamin E, Vitamin C, Omega 6 and 9, and Beta-Carotene.
As may have heard, stretch marks come about due to various reasons for example, a sudden growth increase in teenagers, sudden weight loss and pregnancy in adults.
When your skin rapidly changes, it causes the connective fibers in the dermal layer to tear and stretch. This results in an upper layer of long red lines.
These lines eventually turn to silver or white and they are not attractive but if left alone they may slightly improve over time.
It's generally agreed that treatment should begin during the pregnancy period and several weeks' past birth to reduce these lines as it is more difficult to remove them once they are set.
Grapeseed oil has an ability to repair damaged and stressed skin tissues, especially skin that needs toning and restoration. Owing to the fact that this oil possesses  restructuring qualities, and an ability to help the skin retain its normal structure of epithelium cells and nerve cells, it can minimize the look of stretch marks.
How to use for stretchmarks on skin
Wash your skin with clean warm water to remove impurities and dead cells.
Pat dry using clean cloth.
Take grape seed essential oil in your palm and gently massage over the skin.
Leave it to dry naturally.
How to use Grape Seed Oil for Dark Circles
Dark under eye circles. When you have circles under your eyes they make your face appear dull, unattractive and lifeless. The circles also make you look tired always.
Grapeseed oil can fade dark, under-eye circles when gently applied onto them twice daily.  It is safe and better when compared to other skin care or creams which can affect your eyes when they get into your eyes. This is a natural product and cannot cause eye irritation, burning or any other harm if it gets into your eyes.
How to use
When using Grapeseed oil for dark circles you apply couple of drops of the oil onto the area below your eyes with your finger tip.
You then massage it very gently. You will see results after one week. Besides getting rid dark circles; it will also treat wrinkles and fine lines around your eyes.

Grapeseed oil vs. other oils- Olive, Argan & coconut
Grape seed oil vs. Olive oil for skin
Both grapeseed oil and olive oil are considered very rich in their nutritional constituents. They are cholesterol free high in unsaturated fats and low in saturated fats.
One significant difference is in the terms of nutritional value. The large percentage of 72% in grape seed oil fatty acids are from the omega-6 group while olive oil is higher in omega-3 fatty acids.
According to a 2006 publication in the American journal of clinical Nutrition, consumption of omega-6 acids is not recommended.
Both grapeseed and olive oil are great moisturizers for skin and hair. At the same time, olive oil is heavier and can grease up the skin and clog pores making it not to be fit for people with an oily skin. Besides, grapeseed oil contains higher amounts of Vitamin E, which is very useful in improving your skin's general appearance.
Cosmetologists usually recommend the use of grapeseed oil for face and olive oil for hair.
Coconut oil vs. grapeseed oil
Grape seed oil is thin and light in texture, grapeseed oil leaves a shiny film over your skin when applied making it a preferred ingredient in skin moisturizer products made by the cosmetic industry.
Grapeseed oil is also rich in linoleic and oleic essential oils and also contains some antioxidants such as Vitamin E and Vitamin C. On the other hand, coconut oil can be used as a moisturizer for hair and skin.
It is rich in saturated fats, especially the medium chain varieties such as capric,caprylic and lauric fatty acids which help in protecting your skin from microbial infections due to the antimicrobial properties they posses.
These saturated fat acids holds to the skin when applied externally thus preventing excessive moisture from escaping it also contains Vitamin E.
Bottom line: Both grapeseed and coconut oils play an important  role in caring for your skin but oil from grapes is the better because it is thin and easy to apply compared to coconut oil which is a little thicker and may be better for chapped skin.
Argan oil vs. grape seed oil for skin
The linoleic acid contained in grape seed oil is effective in fighting common disease conditions such as eczema, acne and dermatitis. On the other hand, argan oil also has its cosmetics benefits and is widely used in the treatment of your skin and hair. It is also very effective when used as a moisturizer and is often used to treat wrinkles, dry scaly skin, burns and acne.
Grapeseed Oil for Face Reviews + Skin Before and After
User rating and reviews for skin and face
Quite a good number of users agree that grape seed oil is indeed good for skin care. Most the users recommend it for oily and sensitive.
On Amazon, Now Food's grape seed oil is one of the most reviewed. Out of over 1000 reviews, 80% of users give it a 5-star rating.

Here another review or using it as an anti-aging solution

As usual, it does not work for everyone. Some users claim that after use, it caused breakout and dryness.
Before and after results Pictures
Selene, seems to gives one of the most comprehensive before and after results. According to her, grape seed oil has made a tremendous difference on her skin even without makeup! Below is a before and after photo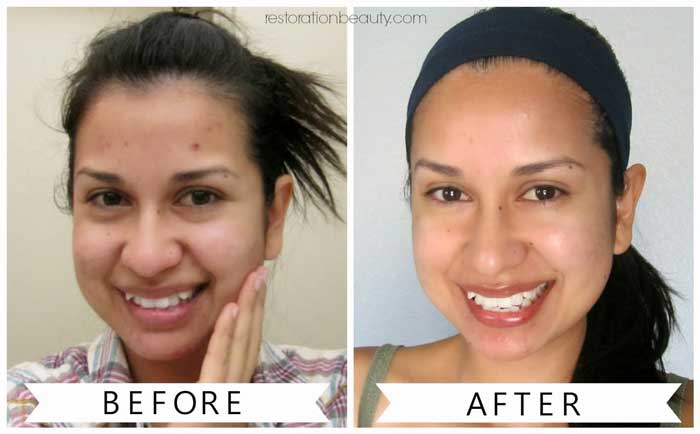 Buying the best Grape Seed Oil for Skin
Here are tips to get the best grape seed oil for your skin treatment
Choosing the best-Organic Cold-Pressed Grape seed Oil
Look for cold-pressed grapeseed oil. When shopping opt for organic grape seed oil that has not been chemically extracted. This is because seed oils that are released at cold temperatures without the use of chemicals or solvents help to retain its natural beneficial properties.
You should therefore read the label on your bottle to make sure that it is cold pressed so that you can be sure that you will achieve all the benefits of this powerful oil.
Top grape seed oil brands for skin
Beauty Aura 100% Pure Grapeseed oil
Aura Cacia Natural Skin Care Grapeseed oil
Botanical Beauty 100% Grapeseed oil
Where to buy
Buy grapeseed oil at grocery stores, beauty stores or specialty shops. Many local grocery stores or specialty stores will carry grapeseed oil. Beauty shops will often carry grape seed oil and other skin products that may work together with this oil. You can also find grapeseed oil from several online sellers including;
Grape Seed Oil Skin Side Effects
The side effects of grapeseed oil on your skin may include the following:
The bad effects of grape seed oil  will depend on how you use. The most common side effect when used externally as a skin care product is allergic reactions. These allergic reactions include;
Rashes
Itching and sometimess
Swelling of lips
Do remember to seek urgent medical attention come across any of the  above reactions