How effective is grape seed oil for Hair? How beneficial is it and how can it be used for natural hair growth, hair loss and for relaxed mane?  What do user reviews say? Read on to find out more in addition to tips to get the best results and possible side effects
Grapeseed Oil Hair Properties and how it is made
Grape seeds are waste products of wineries and are often referred as important agricultural and industrial waste with potentials to be used in pharmaceutical, food and cosmetic applications.
Grape seed oil is the oil which is produced from the grape seeds of the grapes which are usually green, red, or purple. The grape is also known as Vitis vinifera.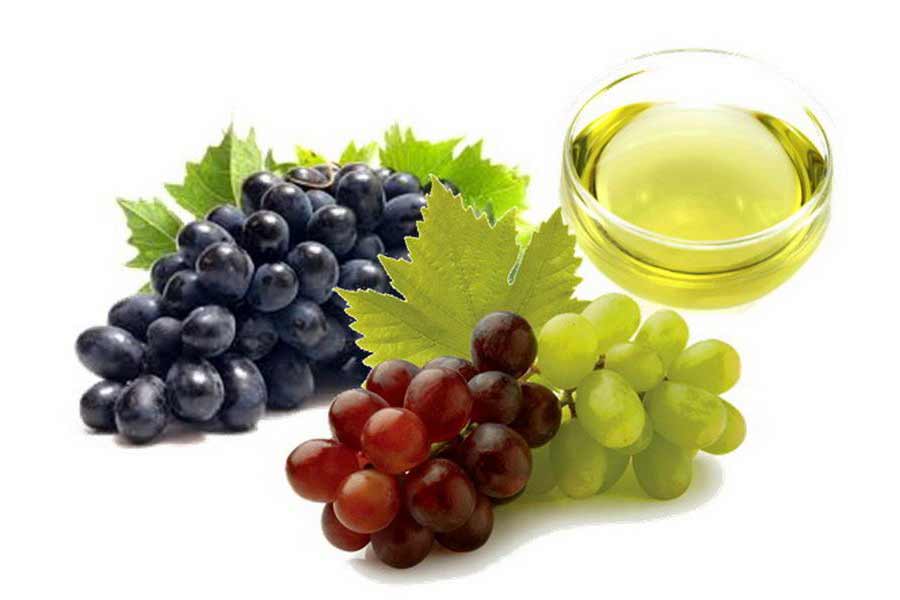 Some of the contents of the grapes, oligomeric proanthocyanidin complexes (OPCs) in particular, have been procaimed as powerful antioxidants.
According to UMMC, the antioxidants are thought to help cure a significant number of conditions from heart disease to cancer to aging skin. However, more scientific evidence is underway to ascertain the link between the oil and the conditions
How is the oil made?
The seed oil is processed from the seeds of grapes which are formed as a by-product of wine making. The oils are usually extracted in factories using an industrial process. It involves high heat and various chemicals which include the toxic solvent hexane. After it has gone through the intense chemical extraction process, the most of the good stuff are filtered out.
Properties of Grape Seed Oil
Vitamins: Grape seeds have been found to contain abundant vitamin A, vitamin C and vitamin E and fatty acids. However, most of the nutrients that are supposedly in grape seed have been destroyed from the chemical process it undergoes in extraction and processing.
Proanthocyanidins (Pas): According to Nakamura Y., Tsuji S., and Tonogai Y., (2002) on their analysis of (Pas) in grape seed extract health foods and grape seed oil Proanthocyanidins, also known as condensed tannins, were detected in grape seed oil.
It is odorless: Grapeseed oil is odorless which makes it easier to use alone or in recipes without needing to add a fragrance (e.g. an essential oil)
It is fairly light: The consistency of grape seed oil is somewhere between that of jojoba oil and olive oil(though much closer to jojoba oil).Therefore, if you find olive oil to be too heavy or want an alternative to jojoba oil, grape seed oil maybe worth a try.
Grape seed oil is mostly hypoallergenic and safe for sensitive skin, as long as there is no actual grape allergy present
Grapeseed Oil for Hair Growth /Loss and Natural Hair
How does Grape seed oil work to maintain healthy and natural hair?
Grape seed oil is thought to be a great choice for hair because it contains a lot of Vitamin E, which is necessary for hair growth, and health.
The vitamin E in it allows proper circulation of blood to the scalp. This cleans the blood vessels that may be damaged and again spreads the cells of the scalp with nutrients and oxygen for proper growth of follicles.
Proanthocyanidins are very powerful antioxidants that help remove harmful free oxygen radicals from cells. It is worthwhile realizing that it is these procyanidins that promote the hair epithelial cell and stimulate anagen phase induction (Kamimura A. and Takahashi T., 2002)
The extensive proteins, minerals and the linoleic acid it contains also offer lots of benefits for hair.
The presence of oleic acid allows softening of horny layer and proper absorption of other beneficial oil.
Hot grape seed treatment will help hair look shiny, but not feel greasy. It also helps moisturize the scalp to prevent dandruff. When it absorbs into the hair, it helps strengthen each strand from the roots, which helps prevent split ends, thinning and breaking later on.
It also smoothens the cuticle and helps prevents the hair from forming a mass of tight curls.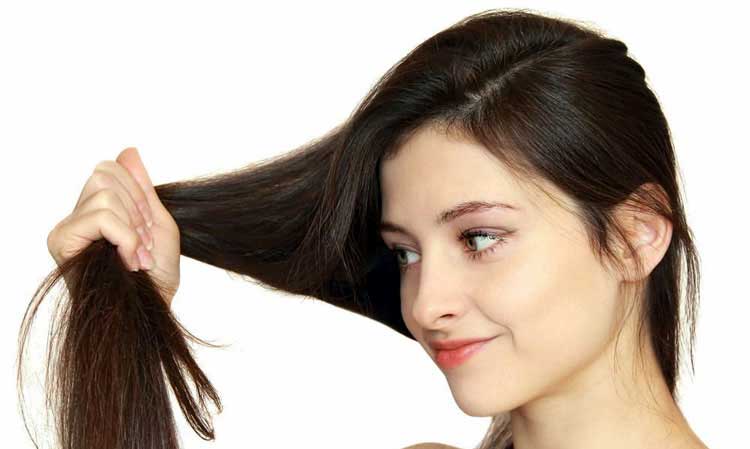 Hair growth
Several recent studies have found a link between grape seed extract and hair growth. The studies found that OPCs (Oligomeric Proanthocyanidins) found in grape seeds were able to inhibit the production of DHT which is the main culprit in hair loss. In addition, and more importantly, they found that the OPCs actually directly stimulated the hair follicles for healthy hair growth.
In recently published research, a group of Japanese researchers examined 1000 different plant products to determine if any of them could influence hair growth. They determined that Proanthocyanidins extracted from grape seeds promoted the proliferation of hair cells by 230%
They also determined that Proanthocyanidins converted the telegon (non-growing) phase of hair growth into the anagen (growing) phase of hair growth. In this experiment, the proanthocyanidins displayed hair-cycle-converting activity which was similar to that of minoxidil.
Although more scientific evidences are still required to prove that grape seed oil does help hair grow faster, the well-known fact is that the essential oil contains almost all important nutrients for hair to grow healthily. The Vitamin E, linoleic acid, proteins and minerals that nourish the hair and scalp almost instantly after the oil is topically applied.
In general your hair is more likely to grow faster and stronger if it is provided with enough supply of Vitamin E and other important nutrients.
Hair Loss
Androgenetic alopecia (AGA) is the most common cause of hair loss in men and affects up to 70% of men in later life especially those ages over 50 years. Grape seed oil, have been shown to be possible alternative treatments, apart from pumpkin seed oil, for AGA  due to improved scalp blood flow.
The OpC's (Oligomeric proanthocyanidins) that are in grape seeds inhibit the production of DHT, one of the main factors in hair loss. The OPC's also stimulate hair follicles, promoting hair growth. When you use the grape seed extract, not only is it excellent to treat hair loss, it can also help to reverse the effects of aging because of its detoxifying agents. You will notice that your skin looks healthier, which as you already know is going to make you look younger. You will also have healthier looking hair, something else that to keep you looking young.
Grape seed extract lowers the amount of DHT in the follicles. This means that it will stimulate the follicles so they are healthy, allowing new, healthy hair to grow quickly. When you take grape seed extract, it can do a lot to help improve your cardiovascular system. It will increase blood circulation, so your body has plenty of oxygen and nutrition which of course is going to help to promote healthy hair growth.
As mentioned ealier, grape seed oil contains high levels of Vitamin E and essential fatty acids that are important for healthier hair. These nutrients are rich in antioxidants and have anti-inflammatory properties that not only promote healthy hair growth, but also are good for our overall health.
Benefits of Grape Seed Oil for Hair
Helps in reducing hair loss
Grape seed oil which is extracted from cold-pressed grape seeds contain antioxidants that may help to block the production of DHT, a hormone that causes hair loss.
Carrier for Essential Oils
Grape seed oil can also be used as a carrier for essential oils that promote relaxation of the hair follicles, preventing hair loss caused by cortisol,a, a hormone released when you are stressed. Try mixing a few teaspoons of grape seed oil with a drop or two of jojoba oil and rubbing it into your scalp to treat hair loss.
It is Inexpensive
Compared to your more popular hair loss/growth products, this one is fairly inexpensive. Depending on where you purchase your grape seed oil, it can cost almost 30-40% less than extra virgin olive oil or extra virgin coconut oil. It is also much cheaper and more accessible than jojoba oil.
It protects against Moisture Loss
Grape seed oil contains a high amount of linoleic acid, a type of Omega -6 fatty acid. Research has demonstrated that when applied to the skin, this fatty acid can help combat dryness by providing protection against moisture loss. This may be good news for a dry scalp.
Hair Strengthening
Grape seed oil contains Vitamin E an antioxidant that helps to build tissue, and linoleic acid a fatty acid that promotes hair and skin growth. If your hair is brittle or weak treating it with grape seed oil can help to restore its strength and shine. Try covering your hair and massaging your scalp with heated grape seed in the morning for glossier, healthier hair.
Reducing Dandruff and Dermatitis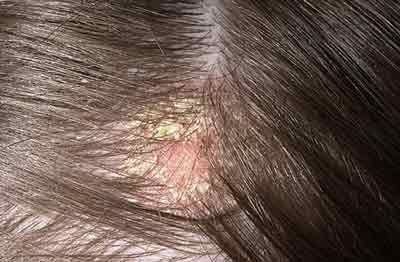 Dandruff and other dermatological conditions caused by a dry, flaky scalp and can be treated with grape seed oil, which is full of lubricants and nutrients that help nurture the growth of healthy skin cells. Try rubbing grape seed oil into the scalp in a circular motion, loosening the skin while allowing the oil to be absorbed, as well as promoting blood flow.
The oil from Vitis vinifera helps tone the hair follicles too making the hair and scalp oilier it acts as a sealant preventing drying and flakiness. This also protects the hair from dry brittleness and improves shine.
How to use Grape seed oil for Hair
Grape seed oil is easy to use, and can be taken orally or used as a topical solution. You will find a large variety of lotions and creams, and even some shampoos that contain grape seed oil available on the market today.
The simplest way to use it is to massage the oil directly onto your scalp before you shampoo your hair and allow it to stay for about five minutes.
Following are other ways you can use grape seed oil for hair.
As a hot treatment.
The oil used as a hot oil therapy to treat and nourish your hair. Use the oil alone or mixed with other oils as a hot oil treatment prior to your wash.
Steps
Warm ½ cup of the oil in a plastic container placed in hot water
Apply directly onto your scalp.
Allow it to stay within about half an hour (you can use a towel or a cling film to cover your hair for more intensive heat treatment if you want).
Shampoo your hair and then thoroughly rinse it off with warm water.
Grape seed Oil for Relaxed Hair
Grape seed oil is one of the best oils for relaxed hair. Owing to the fact that it a wonderful light sealant, it will leave your hair moisturized all day long. You can as well mix it with your favorite moisturizer or deep conditioner for improved results
As a sealant
Depending on your hair, grape seed oil may work just fine as a sealant after a good wash and conditioning session. Just apply the oil to damp hair to lock in the moisturizer.
To enhance a moisturizer: This oil can be used to enhance your current moisturizer. Mix a little bit with your moisturizer to increase moisture retention.
To alleviate a dry scalp: As discussed earlier, linoleic acid has been demonstrated to provide a protection against moisture loss when applied to the skin. Since grape seed oil consists of a very high amount (-70%) of this fatty acid, it can aid in alleviating a dry scalp.
For best results in the treatment of hair, it may be required that you combine grape seed oil with specific essential oils like rosemary and lavender. Essential oils incorporated in a hair care product will impact shine and conditioning effects. This helps provide not only hair conditioning and improvement in the hair's texture, but also a longer lasting pleasant aroma, which eliminates negative odors.
Tips & Ideas to Choose Best Grape Seed Oil for Hair
Scientific studies have proven that grape seed oil contains vitamins and antioxidant properties for human health and beauty. As the concern for natural lifestyle is becoming very high, the market is now flooded with many products containing this oil.
Choosing good quality grape seed oil can be tricky, so you should consider some important things which include:
Consider Organic and pure for best results
Organic grape seed Oil: To be considered organic, grape seed oil should be produced without any chemical substance. Also make sure that you can see a cerfication brochure or information before you make a purchase.
Pure/100% grape seed oil: 100% grape seed oil is widely available in the market. It means that the container is only filled with the oil without any additional substance. When you buy a pure grape seed oil product, you should get the entire natural benefits it offers. In some cases, pure refers to unrefined.
Cold pressed grape seed oil: Heat is applied during the extraction process of grape seed oil. The amount of heat can impact the quality of the oil. The main purpose is to force more amount of the oil to come out of the seed.
While from a manufacture's side this may be important, from the consumer/user's side, it offers little or no benefits.
More heat/high temperatures can alter the oil's chemical structures which in turn will probably change the crucial substances contained in the oil. The end result is reduced benefits for your hair.
Tip: If you buy any cold-pressed grape seed oil in US, you might want to find out more details about the extraction procedure.
Another tip to find the best is to check reviews…below is an overview of some of the customer reviews and rating on popular online platforms.
Reviews, Safety and Possible Side Effects
Grape seed oil products are available in online market. If you intend to purchase such products via internet or even from local stores within you area, reviews, testimonies, and product-related issues provided by previous buyers can offer very helpful info.
Positive Reviews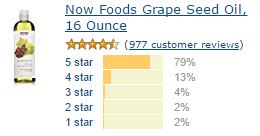 On Amazon quite a number of verified buyers seem to agree that indeed grape seed oil works.
Now Foods' grape seed oil is the most reviewed product and based on the data, 79% of the 977reviews (as per this writing) have provided positive reviews. It has a star-rating of 4.7 out of 5. User s say it is;
Natural solution for dry skin/ hair
The oil is excellent as a moisturizer and does not build up
Excellent multi-purpose oil for face, body & as a carrier oil for essential oils!
Nice and light
On iHerb, another popular online store, a huge percentage (78%) of users have given this oil positive reviews. Below is a screenshot

Checking on online hair care forums, users say they have used it internally (drinking and pills) as well as externally (oils). Most of the users agree that the results are amazing especially for hair. Others have not had good results. Here is a before and after results photo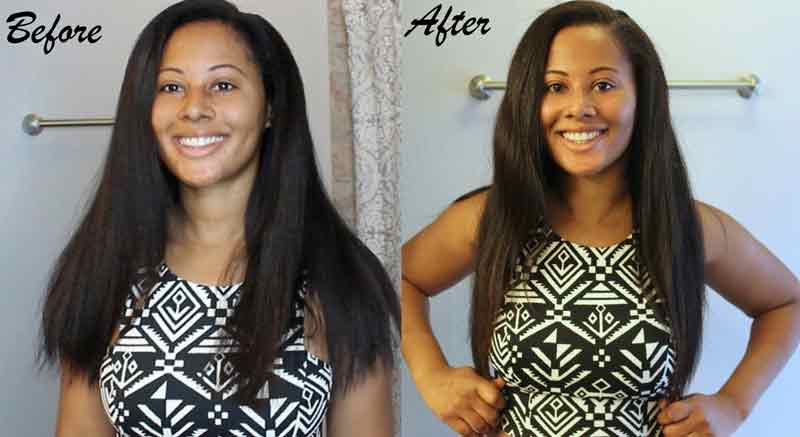 Side Effects & Negative Reviews
On the negative effects some user say;
It build up and my hair was stiff in places
Other users say they were disappointed to learn that the oil was processed with hexane–a toxic solvent.
On YouTube one particular vlogger claims to have worst experience with the oil…after using the oil her body itched like hell
Below is video of her review.
More side possible side effects
According to the National Center for Complementary and Alternative Medicine, other possible side effects of grape seed oil extract most of which are mild include;
Allergic reactions
Dizziness
Elevated blood pressure
Headache
Nausea
Indigestion
In addition, you may notice that your scalp appears unusually dry or flaky and itches profusely.
If any of these side effects persist or worsen, it highly recommended that you contact your doctor immediately for further evaluation and care.
Bottom Line
As it is said, nothing works for everyone. If  grape seed oil has worked for someone, it is not obvious that it will work for you too. To be on the safer side, do your research, consult an authorized healthcare practitioner or a dermatologist, experiment and see what  works best for your hair.
Do not expect overnight results. At least it will take some time. If a product claims to work overnight, give it a second thought.
---
Sources/References
http://www.stylecraze.com/articles/serioussideeffects
http://www.arganadvisor.com
www.blackgirllonghair.com(Chinwe of Hair and Health)
www.add-hair.com/grapeseed-hair-grow
 www.naturalbeautykorea.com