Ingrown hair serums or gels are one of the available means to get rid of inward growing hair. Read on to learn more how these serums work, reviews for European Wax Center, Princereigns, whish flawless, all natural organic treatment serum spray, Kerah lane and how to make yours at home.
How do Ingrown Hair Serums Work?
Ingrown hairs can turn out to be very disturbing especially when they appear your private parts. It is however possible to prevent and treat such ingrown hairs using ingrown hair serums.
Most Ingrown hair serums bring the problem of ingrown hairs to an end by weakening the hair follicles. The ingrown hair serums are applied on the shaven area a few days after shaving.
When the hair follicle is softened or rather weakened, the hair follicle is straightened and this prevents possible ingrown hairs.
The reason the ingrown hair serums are not applied immediately after shaving is that, the serum application on a newly shaven area stings a great deal. Such stinging may push you to clean up the serums before they can act on the skin
When the hair follicles are weakened, the hairs do not have the support to grown backwards to the skin. Apart from that, regrowth is slowed down by the serum.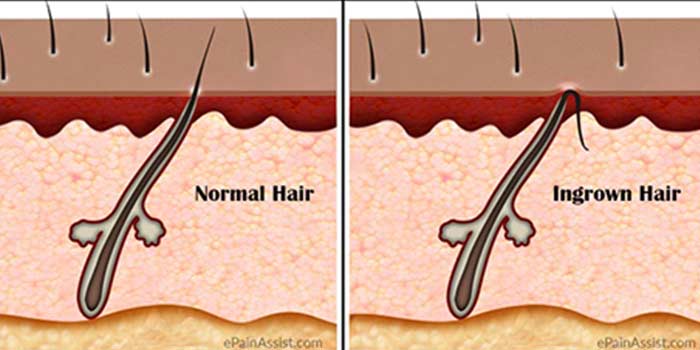 Choosing & Buying Best Ingrown Hair Serums Tips
When you go to the cosmetic shop because of embarrassing ingrown hairs, you want to get the best possible ingrown hair serum. The most confusing part is that all products claim to be the best so it is very important to find out, how best each of those products is.
When you make shaving part of your grooming, you then have to start finding out how best you should do the shaving and what precautions to take.  It is therefore very important to understand what makes one ingrown hair serum better than the others.
To begin with, it is important to do relevant research depending on what problem exactly arises each time you do your shaving. Different ingrown hair serums treat different shaving side effects. You should therefore know whether it is irritation, just bumps or inflammation you wish to treat. Asking people who have used these serums before is also very helpful.
In addition to that, it is crucial that you know the ingredients of the ingrown hair serum you are buying. The best ingrown hair serum for the condition affecting your shaven area is that whose side effects will not affect you negatively after use.
Study the ingredients of each serum you wish to purchase and through research, you will be able to come up with the best product.
Apart from that, the effectiveness of the serum you are buying is worth considering before you can spend a penny. Most products that are widely used always have reviews from different people. Checking these reviews is one way to determine how effective the product you are just about to purchase is. By studying what other people say about a product you determine the pros and cons of using it.
One of the tips that is always assumed but is very essential when you want to buy the best ingrown hair serum is the price. The more expensive the product is the more likely it is the very best you can get.
Being enticed by low prices is one mistake most people work. The ingrown hair serums that constitute the best properties are relatively expensive.
It is also important that you consider the manufacturer of any given product. There are so many
fake products that are all over. You need to buy your ingrown hair serums from well known manufacturer. Buying the ingrown hair serums from unknown manufacturers may be such a great risk. [1]


 European Wax Center(EWC) Review
This serum removes, cures, and prevents ingrown hairs and razor bumps. In addition to anti-oxidants, it comes in calming and soothing exfoliating formula along with other ingredients including Vitamin E, and Lavender and Tea Tree Oils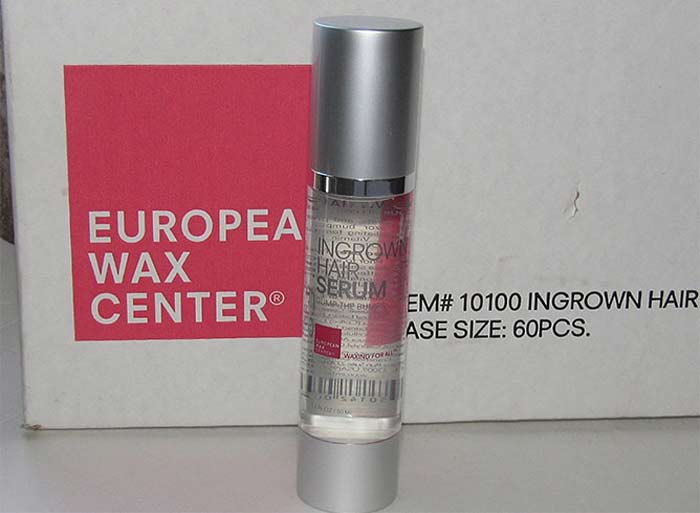 Here are some reviews
"I'm actually an associate for the European wax center & I will tell you that this is what all the girls call our miracle product! We recommend using it 2x a day, once in the morning and once at night to prevent and treat ingrown hair. Also, I do use it on my face to treat acne. Our estheticians gave me the green light and it has proven to be safe. However, ONLY use it on your face at night as it does make your skin more sensitive to the sun. Glad you love it!", Sarah
Princereigns Ingrown Hair Serum Review
This is a unisex and all natural ingrown hair serum or gel mostly used by celebrities to get a flawless skin complexion.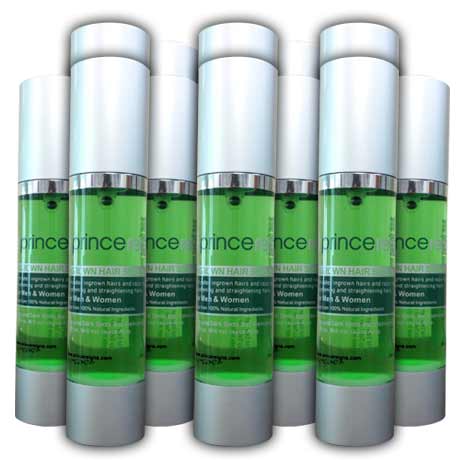 According to the manufacturer, it can eliminate razor bumps and embedded hair after shaving in 2 days
It gets rid of dark spots and blemishes for a clear skin. Princereigns ingrown hair serum also prevents future ingrowing Hair and bumps by Softening & Straightening
User Review

"Since using Princereigns; my hair has become a lot less course, a lot easier to shave and I'm seeing a lot less bumps then I used to afterwards. This product is great for sensitive skin. My skin is sensitive and I have absolutely no problems with this product. My husband loves this product, he hasn't complained of any in grown hairs since using Princereigns." Kelly
Whish Flawless Ingrown Hair Serum Reviews
It is clinically proven to work ingrown hair serum. it works best for
men's face and neck, bikini area, underarm, brow, lip, chest and any other area where razor bumps or ingrown hair occur.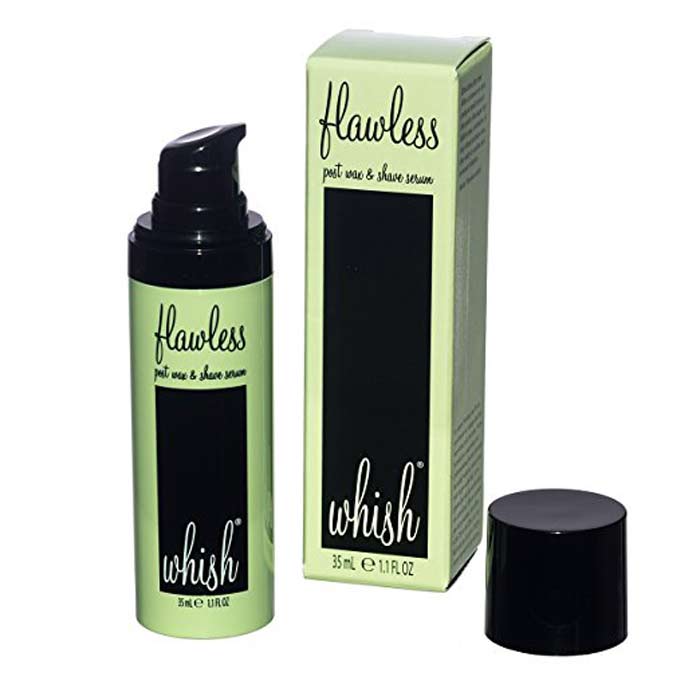 It is free of,
Alcohol
Paraben
Sulfate
DEA
TEA
Petrochemical
Phthalate.
How it works and Ingredients
Wish flawless exfoliates and cleanses,calms, soothes, smoothes and restores, regenarates and heals skin.
It does not sting
It also fresh scent that makes it smell great.
Ingredients
Willow Bark (salicylic acid)
This is an anti-inflammatory ingredient that helps calm the hair follicle. It destroys the bacteria that causes bumps, acne, and irritations.
Saccharomyces Cerevisiae Extract
This ingredient helps healing and skin regenaration/restoration
Papaya Extract
This is a natural source of vitamins A & C, it helps weaken hair follicles, inhibiting future growth.
Rose Hip Extract
This play a role in soothing the skin.
User Reviews
"I love this stuff. During the summer I am especially prone to ingrown hair and this made it all better. I use it on my underarms, bikini line, and legs; wherever there is a need. If you shave you need this plain and simple. "DeAnna D
"Everyone should be raving about this right now! Buy exfoliation gloves and put this on your razor bumps afterwards! Keep using it for a month. Same routine and it will change your life! I love this stuff! Expensive yes, but right now Costco is having a deal! "Veronica c
All Natural Organic Ingrown Hair Treatment Serum Spray by Bump Eraser
The bump spray eraser is a wonder treatment for ingrown hairs after shaving. It consists of herbal ingredients. These ingredients make it suitable in treating ingrown hairs related problems. This bump eraser also frees you from inflammation that is a likely symptom of ingrown hairs.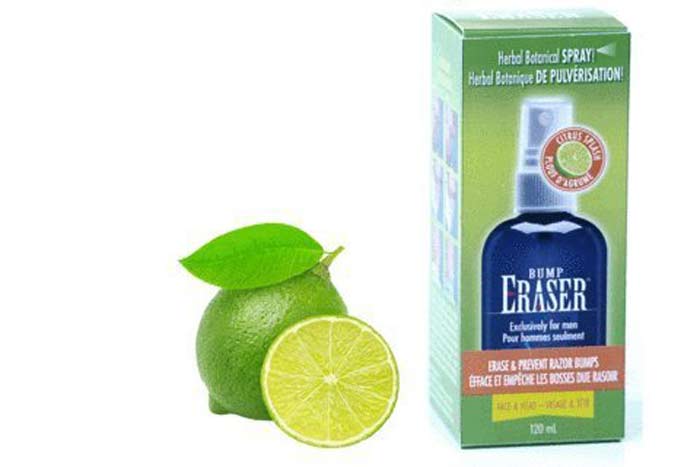 The serum spray by the bump eraser is helpful in case you have irritation after shaving due to presence of ingrown hairs. This spray hydrates the skin [pores hence relaxing the hair follicles. This way, it prevents possibility of ingrown hairs forming and makes it easy to get rid of the already existing ingrown hairs. [2]
Kerah Lane Organic Razor Bump & Ingrown Hair Formula
Kerah Lane products made in the United States are of very high quality.  This razor bump and ingrown hair formula is best used after shaving.
It can be used whether the hair removal is by shaving, plucking tweezing or even waxing and threading.  You can still apply this hair formula even if electrolysis or laser method of hair removal is used.
Further Reading: Best Ingrown Hair Extraction or Removal Tools
It can be used on whichever area of the body where you get ingrown hairs.  This organic hair formula eliminates any possible rashes or pimples that come as a result of ingrown hairs.
Kerah Lane organic bump and hair formula has a soothing effect since unlike other products, it does not have a burning or stinging effect when applied. It prevents clogging of the skin pores by removing any unwanted bacteria.
It can be used on whichever type of skin. When you use this product, you are able to clean your skin as well as offer it protection. [3]
How to make a Natural Ingrown Hair Serum /Gel DIY at home
Research shows that natural products are best for use on your skin. This is because; they hardly have any side effects on your skin. Ingrown hairs can therefore be gotten rid of by use of homemade serums.  Some of the serums you can make to treat your ingrown hairs are as explained below.
Sugar mixed with extra virgin olive oil is one of the best natural mixtures.
Sugar is readily available to most people. You may not realize that you have all the treatment in your house for treatment of ingrown hairs. Sugar has the power to exfoliate the skin and hence remove any ingrown hairs.  By removing the dead skin cells, sugar makes it easy for ingrown hairs to come out.
The following procedure will serve as a guideline in case you want to make yourself a serum to treat ingrown hairs.
Add a cup of sugar to a half cup of extra virgin olive oil. (Jojoba oil can be used in case extra virgin oil is not accessible).
Lavender oil or tea tree oil boosts the effectiveness of the mixture and so you should add ten drops of each type of oil.
The homemade scrub is ready and you should apply it on the shaven area that is probably affected.
The mixture should be applied gently and preferably in a circular motion.
After about ten minutes, you should rinse it off. Do this twice a week for best results.
Salt is another accessible and cheap product that can be used to prevent or treat ingrown hair.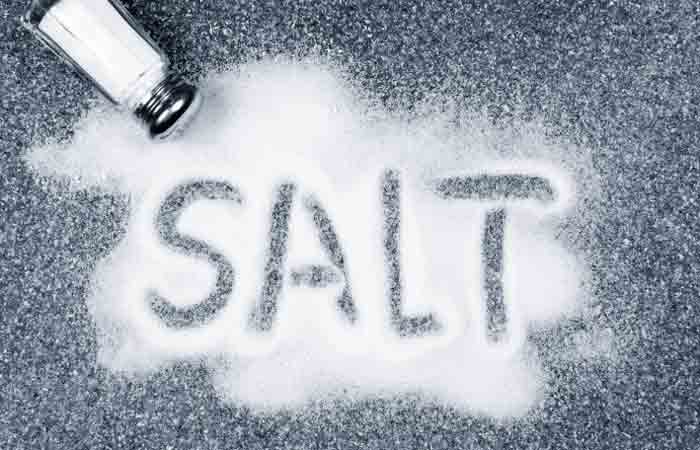 It is a strong exfoliating agent. Salt also boosts circulation and that way, it helps stop any possible swelling and also heals the ingrown hairs area. The following procedure will help you make a salt serum that you can use to treat ingrown hairs.
Sources
[1] http://kellysthoughtsonthings.com/princereigns-review/
[2] https://www.samreesesheppard.org/essential-factors-to-consider-when-choosing-an-ingrown-hair-treatment
[3] https://www.kerahlane.com/products/razor-bump-ingrown-hair-formula