In the market, there is a variety of tools use to remove or extract ingrown hair . There are tweezers, needles, exfoliators, razor pads and more. In this piece, find out a review  of these tools in addition to best brands

Bliss Ingrown Eliminating Pads Review
These are rubbing pads that come with salicylic acid and glycolic acid which act as gentle exfoliants.
In addition to the two acids, they have natural soothing ingredients-oat extract, witch hazel and lavender oil.
Bliss pads come in two versions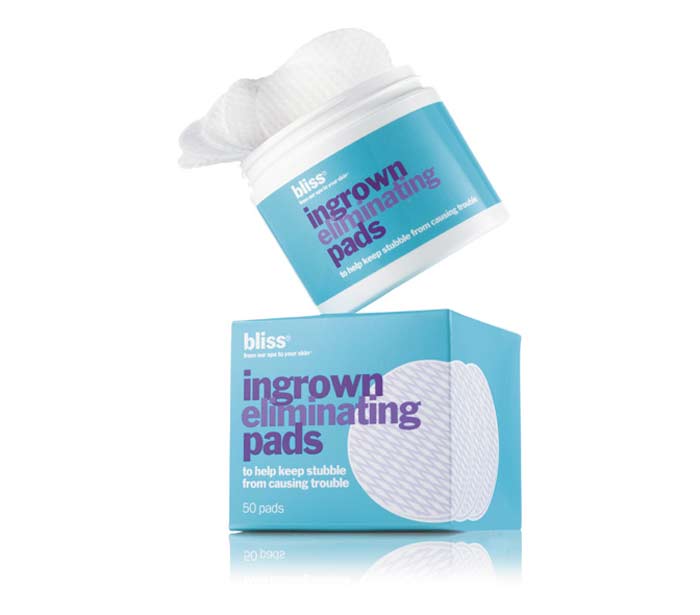 Bump Attendant, Ingrown Hair Eliminating Pads
How to use

Immediately after taking a shower, take a single saturated pad then rub it on the ingrown hair anywhere. These pads can however produce stinging if applied in very sensitive areas of the body. Therefore, avoid these areas.
Similarly, you should not be done for at least 12 hours after shaving and 24 hours after waxing. Also, limit contact with the eyes.
The pads are best used for the elimination of nix ingrown hairs anywhere in the body, except the very sensitive areas because of the stinging that may be likely.
The pros of this tool are that:
They are easy to use
They are of good value
They reduce irritation from ingrown hair
The cons of the tool are that it:
It is likely to cause burns especially in very sensitive areas.[1]
Requires ambidexterity in use which most people don't have
Ingrown Hair Removal Needle
How is it used?
The needle that is to be used should be very sterile. You should rotate the needle for the ingrown hair to gently tease the hair out of the skin. Before that, use a warm compress that will help to bring the hair to the surface.
What kind of ingrown hair does it work best for?
The needle can be used for deep or at times called embedded ingrown hairs. This tool is used alongside other tools like the tweezers and some medications.
Reviews-Pros and cons
The pros are that:
The needle is the best for sensitive skin as skin remains undisturbed
Hair grows back thinner
The cons are that it is at times very painful
Best Tweezers
Tweezeguru Review
It has perfectly aligned tips that make the removal of splinter quite easy. It is a stainless steel sharp tips to allow precision removal of ingrown hair from under the skin without scarring your skin. It is positively the finest.
What is it best for?
It is best used for the removal of ingrown hairs on the eyebrows.
Pros & Cons
The advantage is that it is very effective
The disadvantage is that it is relatively expensive[2]
Tweezerman
This set is ideal for removing unwanted hairs in hard-to-pluck places with an angled, sharp tip that grabs even the shortest of strays. Despite being super-precise, they don't pinch the skin or break hairs at the root. Apart from that, it is available in a range of colors.
What is it best for?
They are best known for stubble, stubborn ingrown hairs and for splinters. For you t use this product, the instructions below are key:
Clean the affected area with soap and water, dip the tweezers in alcohol to sterilize, use needle points of tweezers to grab the splinter and back it out gently
After particle is removed, disinfect area with hydrogen peroxide
If dirt is involved, consult doctor regarding tetanus
To remove ingrown hairs, wash area with soap and water, dip tweezers in alcohol to disinfect, and use tip of tweezers to isolate the ingrown hair
Tweeze hair out gently in the direction of hair growth
Pros & Cons
The advantages are that:
It applies evenly
It is cruelty free
It is of high quality
The disadvantages are that the ends are very sharp and very thin hence likely to cause unforeseen injuries[3]
Tweezerguru vs. Tweezerman
Tweezerguru;
These are high quality, low cost tweezers that are really good value for your money, currently retailing at between $7 and $10.
They are well aligned; precise tips are extremely pointed and sharp and come with a protective plastic cap for storage and in a plastic sleeve – handy but probably not sufficiently robust to be long-lasting.
They have a sturdy thumb grip, to make them easier to hold and control, and are well calibrated with perfect tension.
In use, they can grasp the smallest, finest of hairs with their sharp tips, given some practice.
It can be difficult, at first, to use such fine tips if you are used to regular slant-tipped tweezers.
Tweezerman;
The unique feature of these tweezers in comparison to the others is that they have a special wide grip design for easy grip and added control. If you have a weakness or difficulty holding and using tweezers for any length of time you will appreciate this feature.
In terms of use, they are equally effective​and have all the usual good qualities (sharp points, precise alignment and perfect tension) of the other types of tweezers. They are available in stainless steel finish, or color coated black, blue and red. They are sold at a price of between $15 – $20.
Professional Pointed Ingrown Hair Splinter Tip Tweezers
They are excellent ultra sharp and precise stainless steel tweezers set.
What is it best for?
They are great for use in between brow waxes. The overall effect is an attractive looking, practical tweezers, perfect for removing foreign bodies such as ingrown hair and splinters from just below the skin.
Pros & Cons
Pros:
The advantage is that these tweezers will pull out the fine short hair or the large stubborn hair without cutting the skin or hair.
They also have sides with the same smoothness as the tip. Smooth sides do not cut the hair when one is trying to pull the hair out.
The other good thing is that they are sold at an affordable price
Con: The only con is that the tips are very small, so it can be hard to pick up a hair
Majestic Bombay Surgical Tweezers for Ingrown Hair
They have perfectly aligned tips that help to ensure that you can remove ingrown hairs with a lot of ease. They assure clearer, smoother beautiful skin after the whole removal.
They have an ultra strong grip that will pick up smallest individual hair with less effort, something that standard tweezers would not do.
What is it best for?
They can be used for eyebrow ingrown hair, ingrown hair on the legs, and even the face as a whole.
Pros & Cons
Pros:
They have high levels of precision
Give skin a smoother outlook
They are perfectly aligned, hand filed calibrated and with sharp tips
Pocket friendly and good user reviews
Cons: it needs thorough sterilization before it is used for removal of ingrown hair[5]
Rotable Medical Device for Ingrown Hairs
It is used to pluck the hair out of the follicle one by one till the whole bunch is removed. It finds use because it is extremely sharp and can therefore be of great use.
What is it best for?
It can be used to remove ingrown hair around the bikini area/line the face and the legs.
Ratable Medical device Pros & Cons
Pros:
It can cause less damage to the skin around the ingrown hair
It also does not damage the hair follicle
Cons:
It is relatively expensive
Best Razors/ Shavers for Ingrown Hairs
There are a number of razors that you can use to overcome both deep and other types of ingrown hair.
The first one that you could consider is a double edged razor or shaver. It is an old school razor. It requires insertion of a razor blade with cutting edges along each side.
If you have extremely curly hair [especially men], it offers the best solution to avoid ingrown hair associated with razor bumps.
The other one is the one blade or single blade razor. It eliminates the risks of cutting off hair below the skin surface, a phenomenon that is very common with the use of multiple blades.
According to the CNN Health, you can reduce the instance of ingrown hairs by using a single-blade razor blade. Shaving in the direction of the hair growth will as well lessen the chance of ingrown hairs.
The razor that you ought to buy is the one that has replaceable cartridges or disposable razors.
Better still, is the use of straight razors. It is another version of the single blades. The safety of this kind of blade needs some patience to perfect.
Learning to master the straight razor takes quite some time and practice, precision and steady hand. In order to avoid ingrown hairs and obtain the best shave possible, consult a professional to sharpen the blade regularly.
The other very useful razor is the electric razor. The American College of Dermatology recommends electric razors as an easy shaving solution for ingrown hairs.
They require no special training to use. They come in wet and dry versions for quick morning shaves. Foil shavers feature a series of blades that rapidly and constantly move back and forth under a layer of steel screen or foil..
It is however suggested that electric razors do not shave as closely as manual razors. This shortcoming is a good one for ingrown hairs as lack of closeness reduces the chance of hair growing inwards.
Other ingrown hair extraction tools
Exfoliating Gloves
These are specially made gloves that are used for the exfoliation of the skin. They help to get rid of the dead cells.
This is important because dead cells are the ones that prevent hairs from breaking to the surface, staying under the skin and growing there.
They act like a wall that stands between newly growing hairs and the surface of the skin.
They're relatively affordable and you can get them in most online stores
Scrub (Tree Hut Shea Sugar Body Scrub)
This is one of the best ingrown hair products out of the ones available because they leave your body feeling smooth and smelling wonderful.
It is made with certified organic shear butter for skin repairing and moisturizing, anti-aging and promoting elasticity.
It is infused with coconut extract for skin conditioning and lime extract for skin polishing.
It uses Safflower seed oil to deeply moisturize, evening primrose oil to rejuvenate and as an anti-aging agent and sweet almond oil to improve complexion and retain natural sheen.
It is also made with avocado oil which reduces damage and hydrates, macadamia seed oil which is an excellent skin moisturizer and protector, orange oil which supports collagen formation, detoxifies and repairs sun damaged skin.
Apart from that, the sugar grains and ground coconut shells will softly polish away dead coconut shells will softly polish away dead and damaged skin, leaving your skin soft and smooth.[6]
This product available on Amazon and other online stores
Brush (WIZKER Brush)
This brush is indicated for the removal and elimination and prevention of shaving bumps, razor bumps, ingrown hair, pseudo folliculitis barbae and then relief of stable-itch for body areas like the face, neck and the bikini zone.
It is very effective for mustache and beard taming and for exfoliating, proper cleansing skin care, elimination of itchy, shaving related irritation for men and women.
The biggest advantage is that it does not have any chemicals that could be dangerous or harmful to your body. You should therefore be very comfortable when using it.
It uses high precision, firm flex bristles to tease newly shaved hair and lift the trapped hair from the skin. If the brush feels more abrasive to sensitive skin, only use it while you are showering. If you use it on dry skin, it can increase exfoliation yet may even feel coarser on sensitive skin.
Apart from that, use it before and between shaving, waxing and electrolysis as directed along with proper skin care and hair removal methods. This brush lasts up to a period of six months. It guarantees the elimination of bumps.
Over 600 customers have reviewed this brush on Amazon. Majority say it works while other say it does not work
---
References
[1] https://www.blissworld.com/bath-body/bliss-ingrown-eliminating-pads
[2] http://www.independent.co.uk/extras/indybest/fashion-beauty/beauty/best-tweezers-boots-for-ingrown-hair-tweezerman-eyebrows-9770742.html
[3] http://hairfreelife.com/best-tweezers-ingrown-hairs/
[5] http://www.ebay.com/itm/Surgical-Tweezers-for-Ingrown-Hair-Stainless-Steel-Precision-Sharp-Twee-New-/302062125060