What are the benefits of coconut water for skin? How can it be used? Using water from this nut for skin care is a remedy that many women swear by. This nutrient-rich fruit comes with plenty of benefits that  make your skin healthy, glowing and young. Read on to find out the effectiveness of coconut water, and tips/ideas to use it for best results.
Benefits of Coconut Water for Skin-how good is it?
When you drink coconut water it helps to flush out toxins from your body and it cleanses your skin and makes you younger and gives you a healthier skin.
Coconut water is rich in nutrients that will enrich your skin to a bright new form. It is also contains vitamins and essential minerals. You can drink the coconut water to replenish the lost fluids and minerals during a vigorous physical activity.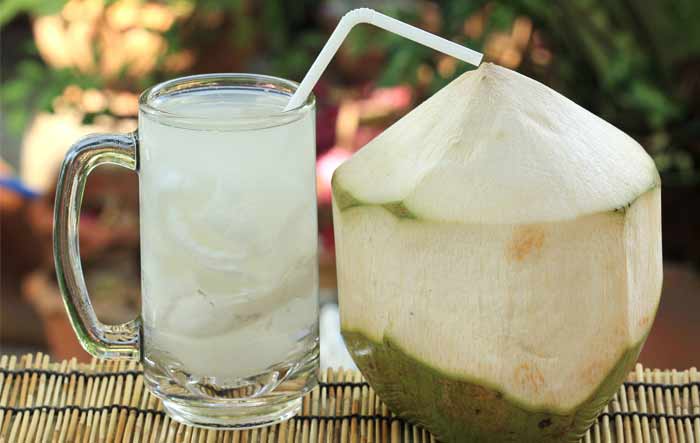 Vitamin C for elasticity and protection.
Vitamin C is an antioxidant which helps in protecting your skin against damage caused by the sun. Also, daily intake of Vitamin C in your diet may help prevent your skin from drying. Vitamin C is a normal skin constituent that is found in both the dermis and epidermis.
One cup of coconut water contains 24 milligrams of Vitamin C equivalent to 40 percent of the total daily intake. Vitamin C is needed in sufficient amount in your body for collagen synthesis a protein that gives your skin firmness and elasticity and promotes wound healing.
Nutrients for energy and structure
The end product of carbohydrate digestion and metabolism is glucose. Glucose plays a vital role for the health of your skin. Coconut water contains carbohydrates which provide most of the calories when consumed. One cup of coconut water provides 10 grams of carbohydrates per serving.
According to the Linus Pauling Institute, the glucose from the coconut water is the primary source of energy for your skin which uses a large amount of glucose as your skeletal muscles. Therefore, when you do not get carbohydrates in your diet opt for coconut water to improve your skin structure and appearance.
Hydration for Healthy Skin
Water is needed by every organ in your body including the skin for proper body functioning. According to the Clemson Cooperative Extension, water is the best choice for hydration purposes and a glass of coconut water can be a healthy option for hydration.
Drinking coconut water may not make your skin brighter and glowing but it also helps to keep your skin healthy, this is according to the University of Wisconsin-Madison.
How to use Coconut Water for Skin Hydration, Pigmentation & Clearness
Fresh coconut water contains cytokinins; plant hormones which help in hydrating your skin. They also encourage tissue cell growth which makes coconut oil a good ingredient for anti-aging.
Environmental elements for example the sun, pollution and harsh chemicals used on your face can take away the natural moisture of your skin leaving it dry, coconut water therefore plays a great role to hydrate your skin when you apply it on your face. Coconut water can be used for every skin type as a moisturizer due to its light weight it can hydrate your skin without making it greasy.
How to use coconut water for hydration
You need a face mask made out of coconut water and lemon juice which can help insert more moisture to your skin without making it oilier.
Ingredients needed
2 tablespoons of coconut water
½ teaspoon of lemon juice
1 teaspoon of honey(optional)
Procedure
Put the coconut water in a bowl and add the lemon juice to it. If you have a dry skin, add honey then stir all the ingredients to combine them all.
Dip a cotton ball into the mixture and gently massage it into your skin using circular motions.
Keep it on for 30 minutes and then rinse your skin with cold water.
Note
The quantity of lemon juice you use should be adjusted depending with your skin type because it can dry out your skin. If you have an oily skin you can use more lemon juice because it will help control the oil.But, if you have a normal or dry skin you should use less lemon juice and add honey to the mask to boost the moisture of your skin.
Coconut water for skin whitening/brightening
Coconut water is a great relief in whitening your skin due its natural whitening properties. It also helps to get rid of harmful toxins from your skin leaving your skin young and healthy looking. Coconut water helps to get rid of blemishes such as acne scars for a perfect skin.
Compared to other home remedies coconut water is the most effective when used for your skin. You can use it on a dark skin to renew and even out your skin tone. You can also use it on a fair skin to make it bright and promote a flawless complexion.
How to use
Mix ½ a teaspoon of turmeric powder and red sandalwood each.
Add some coconut water to make a paste.
Use the mask on your skin thrice a week.
Add a few drops of lemon to remove irritating blemishes.
Coconut water for skin pigmentation
Research has shown that Vitamin C can help remove pigmentation. Coconut water is a natural source of vitamin C which makes it work effectively to reduce tan, discolored color and blemishes from your skin. Vitamin C helps remove free radicals that damage the skin and works well in reducing pigmentation.
Coconut water also boosts the blood circulation to the skin. This allows the skin to get rid of toxins which would make your skin appear dull with patches and dark skin.
How to use
When coconut water is used with fuller's earth it will help reduce pigmentation.
Ingredients
1tablespoon of fuller's earth.
1½ tablespoons of coconut water.
Procedure
Mix the fuller's earth and the coconut water to make a thin paste.
Apply the paste on the pigmented areas, or on your entire face, once or twice a week.
Stay with on for 15 minutes and rinse with cold water.
Coconut water for a clear skin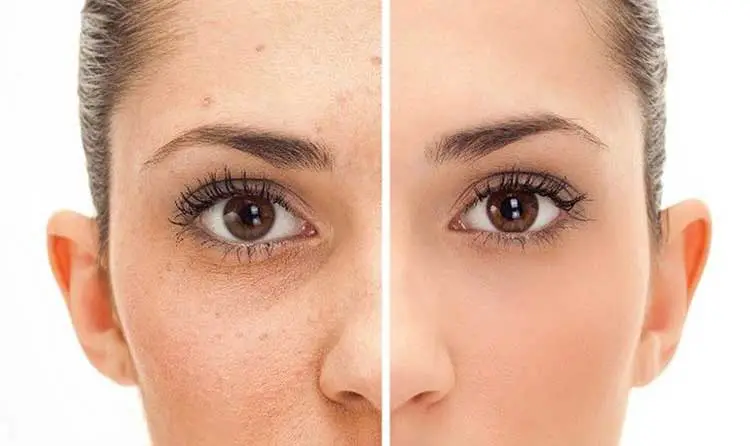 Coconut water contains Vitamin D which is the greatest nutrient for a bright and glowing skin tone. It also contains potassium which plays minor roles in acne such as regulating and inflammation. Since it does not contain high levels of sugar nor caffeine it is likely not to give you acne compared to other drinks.
Acne is caused when the follicles in your skin get clogged by oil, which is then attacked by bacteria to cause swelling to your skin. Coconut oil contains antibacterial properties which help to reduce acne and leave your skin smooth and clear.
How to use
Ingredients
½ cup of coconut water
1teaspoon of honey
Procedure              
Stir the honey into the coconut water.
Dip a cotton ball into the mixture and apply it on your cleansed face daily.
Keep it on for 10 minutes and wipe it off with a wash cloth.
Other benefits of Drinking Coconut water for Skin
1.     Reduces signs of aging
Premature signs of aging can affect your self esteem. Coconut water contains powerful anti-microbial agents called lauric acid which helps to protect your skin from infections. The cytokinins help in cell activation and cell growth.
They also regulate signals in response to inflammation caused by acne which can have an anti-aging effect on your skin. If you use coconut water both internally and externally it can improve wrinkles, fine line and dark spots.
2.     Helps to treat skin infections
your skin is always prone to bacteria and fungi which cause skin infections that result to rashes and skin irritation. Coconut water can be used to treat these infections. It has antibacterial, antifungal and antiparasitic properties which help to treat skin infections when applied externally.
3.     Cures Eczema
Eczema is an acute or chronic inflammation of the skin characterized by redness, itching and scaly rashes appearing on the skin. Coconut water can be a great natural remedy for eczema.
This is because it is rich in essential nutrients like potassium, lauric acid, antioxidants and cytokinins which help to maintain a younger skin. Coconut water also helps balance the PH levels of the body. All these factors make coconut water an ideal treatment for eczema indirectly.
4.     Beneficial for oily skin
Coconut water helps to improve the tone of your skin. It helps get rid of the excess oils and gives a natural shine to your face if you have an oil skin.
5.     Protects against sun damage and heat boils
Coconut water contains Vitamin C which has antioxidant properties in reducing sun burns and heat boils. It is said to be the simplest sun burn removal with natural ingredients that can also removes patches from your skin bringing about a soothing effect to your skin.
6.     Immunity
Coconut water contains compounds and nutrients which plays a vital role in improving your body's immune system. When your body's immunity is strong some infections like diarrhea are prevented which can make you dehydrated hence affecting your skin therefore coconut water will help your skin to stay hydrated always making it look healthy always.
7.     Skin tonic
Coconut water cleanses your skin and shrinks the appearance of pores on your skin. It also ensures that your skin is adequately hydrated to make it feel soft. Coconut water therefore makes the best skin tone.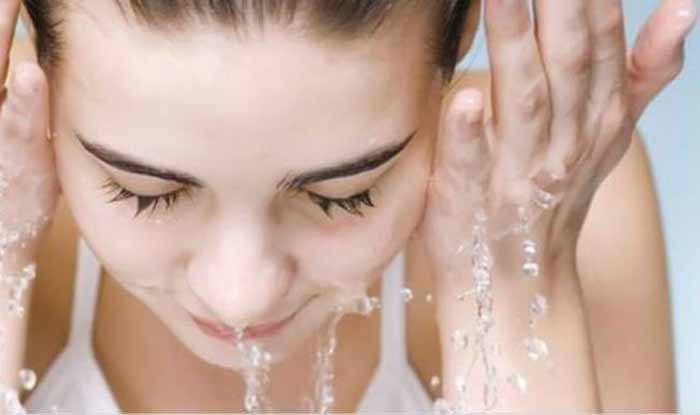 8.     Pimple/Acne control
Coconut water can be used as a home remedy to make a face mask that controls pimples and gets rid of acne fast naturally at home.
Therefore coconut water is generally safe for use on your skin even if you are allergic to coconuts.But, if you are diabetic and hypertensive you should consult your doctor before drinking coconut water.

Sources