How good is carrot seed oil for your skin? If you are Looking around for a new skin care ingredient then vitamin rich oil is worth trying. Find out how you can use Carrot oil for face skin lightening, acne, tanning, recipe in addition to creams and serum
Carrot Seed Oil for Skin & Face- SPF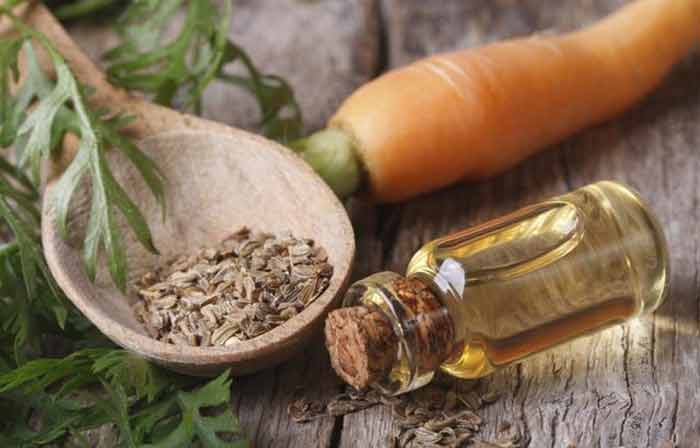 Carrot seed oil SPF (Sun Protection Factor)
SPF is a measure of how well a sunscreen will protect your skin sun's  ultraviolet B (shortwave) rays. This is the type of radiation known to cause sunburn, skin damage, and can contribute to cancer of the skin.
Carrot oil is thought to carry some amount of SPF. It is not very clear how much of SPF carrot seed oil comes with.
If you google it, a couple of websites say that carrot seed oil has an SPF factor of about 38 and 40. Based on studies, essential oils volatile and non volatile carry a SPF of between 1-8.[1]
Other carrot seed oil properties that help the skin & face
It has antifungal properties. According to polish researchers in the year 2004, carrot oil was found to antifungal properties and these were able to inhibit the growth microorganisms.
Carrot oil also has antioxidant properties. This is alluded to the fact that the seed has beta carotene as well as other minerals like vitamin K, fiber and vitamin C.
Vitamin-rich-Including Vitamin A which is good for your skin.
Benefits of Carrot Seed oil for Skin
Following are the benefits of using carrot seed oil skin
It rejuvenates the skin
What makes the oil useful in this case is the amount of a compound called carotol that it contains. This compound is known to rejuvenate any dull skin and give them new life. To help out in this, the following procedure is key:
Take a spoon of bentonite clay and mix with one tablespoon of aloe vera gel and about two drops of essential oil
After that, apply the mixture on your face for about 10 minutes
Once that is done, rinse your skin with some warm water
It is able to brighten any dull skin
The oil can be used alone but can also be combined with other ingredients so as to make it more effective. The procedure is as follows
Take about two tablespoons Argan oil and then add seven drops of carrot seed oil
After that, add 4 drops of lemon oil
Mix the above ingredient with 2 tablespoons of carrot seed oil
Apply the mixture on your skin every night before you retire for bed
Wash off your skin in the morning using a lot of water
It smoothens the wrinkles on your skin
It is an important antiaging agent by preventing the premature formation of the wrinkles and lines. The carotenoids that are very powerful antioxidants are key in helping out in this. The antioxidants fight off what are called free radicals that contribute to the premature aging.
It lightens the tone of the skin
Carrot seed oil can be combined with other ingredients like lemon oil, frankincense oil, shea butter so as to get the best outcome. The procedure in this would be
Mix about one tablespoon of shea butter with two drops carrot seed oil, about two drops of lemon oil and about two drops of frankincense oil
After that is done, apply the mixture on your skin for about 5 minutes
It balances the sebum on the skin
It is likely to regulate the production of sebum and this will prevent the outpouring of sebum on the skin which would lead to a problem to your skin
It can soother skin in case it is damaged by sun
When you get a sunburn, you are likely to have a lot of pain. the healing properties that it has are able to restore the skin from the damage as it promotes the renewal of other cells. The procedure for this would be:
Get and mix about 5 drops of carrot seed oil with a cup of aloe vera gel
Once that is done, smooth it over the area with sunburn
How to make Carrot Seed Oil & Carrot Oil for Skin use
Carrot seed oil
It is obtained from dried seeds of the coconut plant. To make this, there are three methods and types that you can come up with. They include:
Carrot seed essential oil that is obtained from the Daucus carota, a species of carrots that is obtained by steam distillation of the seeds.
Cold pressed carrot seed oil that is produced by pressing the seeds from oils just as you would do in the production of vegetable and seed oil.
Carrot oil
To make this, you will need the following ingredients
A glass jar
A pot
A mesh strainer or cheesecloth
A hand grater or even food processor
A veggie peeler
Olive oil, coconut oil, sunflower oil or some sesame oil
Home grown or organic carrots
The procedure would be:
Wash the carrots and then peel them
Using a hand grater, grate them
Place the grated carrots in the pot and then pour the oils above
Ensure that the temperature is maintained warm
Infuse for some time and once that is done, pour the carrots and the oil mixture through the mesh strainer and the strain
The oil is a this ready for use[2]
Carrot Seed Oil for Acne & Scars
The ability of carrot oil to heal acne and acne scars is based on vitamins especially Vitamin C. To use carrot seed oil for acne all you is need to dilute it with coconut or olive oil and then apply
How to use Carrot Oil for Skin Lightening
You can apply the oil on your skin and this should be able to make your skin very light. The procedure is as follows:
You will need;
¼ cup of the sesame oil
About 10 drops of sandalwood oil
A small funnel about
7 drops of lemon oil
About 7 drops of carrot seed oil
The procedure is as follows
Use the small funnel and put some of the sesame oil into a glass dropper bottle
Add the oils dropwise, one after the other
Close the bottle and then thoroughly shake
Store this is a very cool and dry place
After that, massage the mix over your skin
This can be done overnight and in the morning, wash it off
How to use Carrot Oil for Skin Tanning
Carrot can be used for skin tanning and sunburns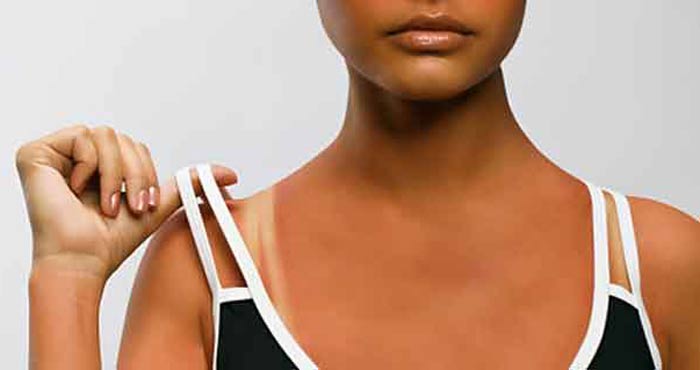 Recipe for skin tanning
You will need;
About 4 tablespoons of olive oil
About 4 tablespoons of fresh lemon juice
About 250 ml of carrot oil
To prepare this, you follow the procedure below:
Gat the carrot oil, lemon juice and then mix them together into one vessel
Apply the mixture to the any area of the skin and massage gently
Reapply this mixture as frequent as possible especially after swimming or toweling
Ensure that you protect your eyes and just in case any gets in your eyes, rinse it off immediately using a lot of cold water[3]
Carrot Oil vs Carrot Seed Oil
How are they different in terms of skin usage?
Carrot seed oil is used in the treatment of the skincare problems. This oil also protects the skin from harmful rays of the sun, treats damage on the skin and improves your complexion. The oil further revitalizes the skin as it helps to do away with the skin problems like wrinkles and premature aging.
On the other hand, carrot oil is used to relieve the itch on the skin as well as other conditions such as dermatitis, wrinkles and eczema. The use of this oil does not call for dilution for it to work unlike carrot seed oil which ought to be slightly diluted.[4]
The main chemical components of the carrot seed oil on the skin are acetic acid, carotol, asorone, limonene, bisabolene and pinene.
These are able to improve complexion of your skin and then strengthens the red blood cells as your skin gets toned and increase its elasticity and firmness. The seed oil also is known to remove the toxins and water build up in your skin.
Carrot oil on the other hand is known to be a tanning enhancer. Apart from that, it has carotenoids that are powerful antioxidants. More to that, it has vitamin E that has been shown to reduce the harmful effects of the ultraviolet rays as it enhances the immunity of the skin and then heal it from sunburn
Carrot Seed Oil Face Cream & Serums
What are some of the creams and serums made from carrot seed oil? Following is a  review.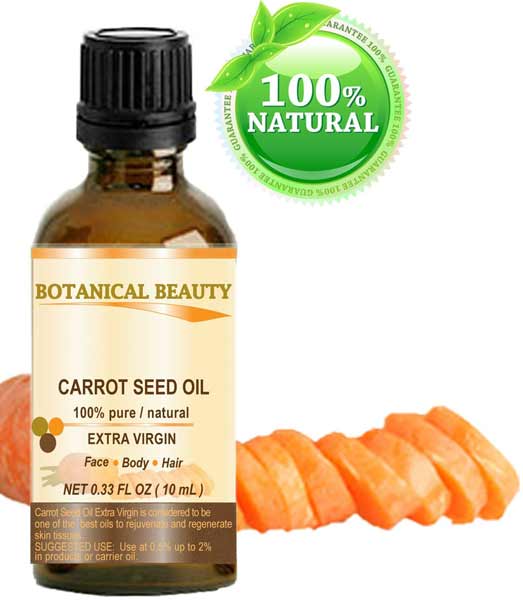 Carrot seed oil face serum
This is known for healing sun damaged skin as it rejuvenates the skin cells and thus boosting the youthful look of your skin and protect it from the damage from the UV rays. It contains Argan oil, prickly pear oil and other essential oils lavender, frankincense, carrot seed oil and geranium oil.
The Dew Nourishing Olive Oil Face Oil
By the virtue of carrot oil being part of this product, it a powerful component for your skin and body as a whole. The oil gets deeper into your skin to make it more supple and luminous. Having carrot oil, it makes it antiaging properties and antioxidant vitamins like Vitamin A and C.
Further, the oil has other oils that include jojoba seed oil, essential oils of lavender and chamomile oil. More to that, it has Rosa canina fruit oil. What you have to do is apply the oil so as to help get rid of the skin problems.
The benefits and advantages of this product include the following:
Does away with the wrinkles as it moisturizes and then soothes the skin that is damaged by the sun
The carrot seed oil provides anti-inflammatory properties and other properties that are able to do away with premature aging of the skin and the drying up of your skin
The olive oil that is contained in the product is able to hydrate and moisturize your skin.[5]
Sources
[1] https://www.ncbi.nlm.nih.gov/pmc/articles/PMC3140123/
[2] https://frugallysustainable.com/how-to-make-carrot-oil/
[3] http://calypsosun.com/products/carrot-oil-2/
[4] http://blog.levenrose.com/carrot-seed-oil-differences/
[5] https://www.belmondo.ca/products/olive-oil-face-serum